Have you bought your Christmas crackers yet? Not sure which ones to get? Don't worry, let us help you. Here are our festive favourites this year.
1. Liberty London Peacock Crackers (pack of 6) – £39.95

Peacock Feather crackers make an eye-catching, treasure-filled addition to a seasonal dining arrangement.
Source: Peacock Feather Christmas Crackers | Liberty London
2. Lakeland Symphony Crackers (pack of 8) – £14.99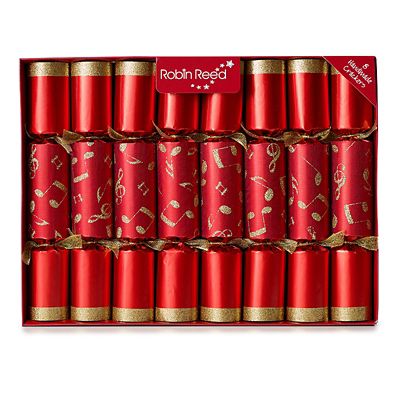 3. Waitrose Berry Crackers (pack of 8) – £15.

Buy quality groceries and wine from Waitrose & Partners
Source: Waitrose Red/Cream Berry Crackers – Waitrose & Partners
4. Sainsbury's Family Crackers  (pack of 12) – £4
Buy Sainsbury's Christmas Family Crackers Characters x12 online from Sainsbury's, the same great quality, freshness and choice you'd find in store. Choose from 1 hour delivery slots and collect Nectar points.
Source: Sainsbury's Christmas Family Crackers Characters x12 | Sainsbury's
5. Make your own. Why not give it a go (I'm very tempted) and make your own personalised Christmas crackers this year. Make from scratch or get a starter pack from the works for just £3 to make 6 crackers. It includes name tags, ribbons, mottos, snaps and hats but the rest is up to you.

Buy Make Your Own Crackers – Elf online from The Works. Visit now to browse our huge range of products at great prices.
Source: Make Your Own Crackers – Elf | Handmade Christmas Gifts at The Works
You could even switch the enclosed ribbon for something more personal from Easy2name labels, use it to tie the crackers together and or tie up gifts and other presents. Easy2name personalised ribbon is available in a variety of colours and motifs and is priced at £1.50 a metre (minimum order 20 metres).
Add that personal touch on your special wedding day or celebration with our personalised ribbons that come with a selection of letters, colours and motifs.
Source: Personalised ribbons for weddings and celebrations
Maybe add in a game of consequences; just fold up a piece of paper (and a small pencil or have plenty to hand) into each cracker then everyone draws a part of the body or tells part of a story. Once all passed around open them up to see your funny person or story.
Decorate the hats, or make your own. You could make elf or Santa hats, something a bit different. Or you could make some bows, to go in your hair or turn into a bow tie.
Add a gift, a small chocolate would do the trick and your Christmas Crackers are done.
The Easy2name Team.